Decorating a child's room is getting easier and becoming more fun thanks to so many innovative products and an abundance of decorating websites for inspiration. One area that has really grown is the world of decals making it easier to make a significant impact in your child's room for relatively low cost. There are decals for everything – even furniture or light fixtures that give the illusion of upscale design without spending the big bucks.
New to the decal world is a product I have recently come to love because it not only looks great, but actually helps your child learn at the same time!! Pretty genius right? Teachstix are wall decals of sight words necessary in learning to read. Click on the picture to get a better look: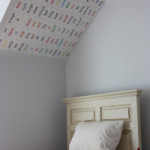 Sight words are frequently recurring words in text that children learn to identify by sight rather than by decoding them. Most of them cannot be phonetically sounded out and do not come with a visual cue (how can you illustrate, "what"?);  therefore, children must learn them through memorization. Even children who have mastered the skill of sounding out can have trouble reading if they have not learned the sight words.
Full disclosure: one of the women who created this product is a mom friend who, like myself, has two smart and curious boys who love to learn. She came up with the idea for the product when one of her boys was having trouble learning to read. Read her story here:
http://www.teachstix.com/a-mothers-story
As an early childhood educator, this product is a dream! I know first hand the importance of sight words, but I also know how tedious and uninspiring flashcards can be. Here, your children can be immersed in a print-rich environment and be learning automatically instead of through a painstaking process. And as a designer, I love how modern and cool they look!
For more information please visit,
http://www.teachstix.com/