The following is a tiny space I made over on a tight budget. I took a little girls secret play space that was drab and not particularly imaginative and made it magical and special. If you live in an old house that has a similar under the stairs nook but aren't sure quite what to do with it, consider something like this!
Before:
While it may be tricky to tell in these pictures the space first goes down stairs and the wraps around to form a u shape creating 3 tiny spaces.
After:
(Important to note that these pics were not done by my professional photographer and the color is all off. The green is a soft cucumber and not  florescent as it appears!)
(The first part of the U)
The second part of the U: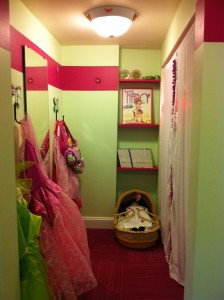 The last part of the u:
In this space the window treatment, reading nook curtain and pillows were custom made.
Budget: $400
Source Guide:
Carpeting: Flor carpet squares, reverb, magenta
Curtain and large pillow: Owl print bedding sheet, Target
Flower light: Smila blooma, Ikea
Bird wall decals: Target
Name/butterfly decal: rosenberryrooms.com
Cherry blossom tree decal: rossenberryrooms.com
Handmade fabric wall flowers: Leilasflowergarden from Etsy
Pink storage bins: Target
Etched butterfly mirror: Ikea
Mirror butterfly hooks: Pottery Barn Kids

Sheer white curtain:Target, hand embellished with hot pink pom pom fringe

Paint: BM cucumber and